OUR TERRACE IS OPEN AND IS SMOKING  and VAPING FREE
For your comfort, we have installed outdoor heaters in our terrace  so you can stay cosy warm even in our beloved British weather,
Dear Customers Due staff well deserved Holidays we are going to be closed on the Following days:
Sunday 14  of August – Sunday 21 of August – Sunday 28 and Monday 29 Bank Holiday –
WE MUCH LOOK FORWARD TO SEEING ALL OF YOU
We reply to emails in the morning, every day. Thank you
| OPENING TIMES | |
| --- | --- |
| Monday | 5.30 pm  – 10:00 pm |
| Tuesday | 5.30 pm – 10:30pm |
| Wednesday | 5.30 pm – 10:30pm |
| Thursday | 5.30 pm – 10:30pm |
| Friday | 5.30 pm – 10:30pm |
| Saturday | 12.30 pm  – 10:30pm |
| Sunday |  12.30 pm  -9,30 pm -last booking 7.30 -Kitchen close at 8 pm – restaurant 9,30 pm |
Let Paola welcome you to Osteria Tufo, an Italian restaurant in the heart of Finsbury Park. Paola likens her restaurant to an extension of her home's dining room and personally greets and treats each customer as a welcome guest. Each member of staff is attentively handpicked to guarantee the best possible service and experience to all our customers. The result is a cordial and warm atmosphere that will undoubtedly make you feel at home and wanting to come back for more.
Conveniently located in a friendly neighbourhood near Finsbury Park station, only a few steps away from the acclaimed Park Theatre, our restaurant attracts locals and theatre goers as well as a growing number of foodies from other areas of London willing to make the extra mile to savour the honest and classy cuisine of Osteria Tufo.
The quality of our food is only matched by the passion and dedication that Paola puts into the restaurant. All our wines and recipes come from Naples, Paola's homeland, and the whole of southern Italy. Although tradition is key here, our dishes do not ignore contemporary tastes and always offer some modern twist to the classic recipes. However, do not expect some over-designed tiny portions of food deceptively arranged on you plate. Honesty and simplicity are fundamental values to us.
Whether you are looking to have a romantic dinner for two or a good time with great friends, a meal before the theatre or hosting a private event, make sure you try Osteria Tufo. Paola guarantees that you won't be disappointed.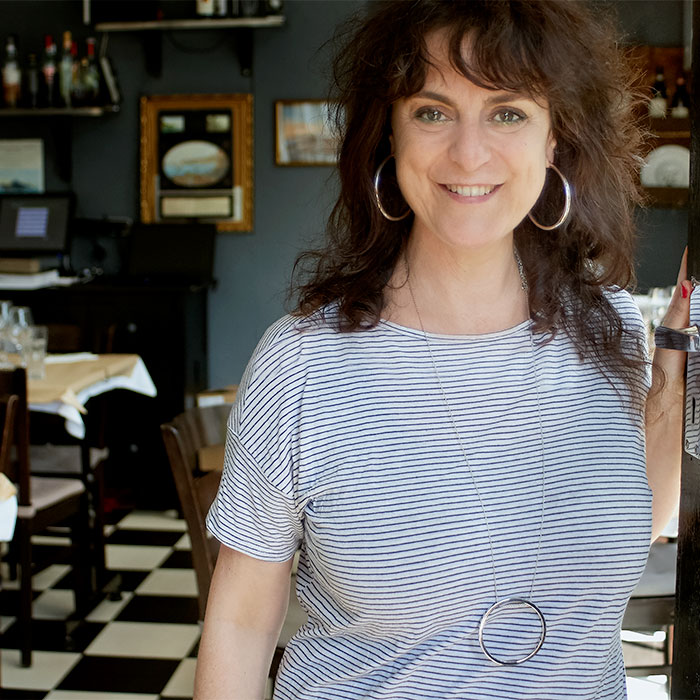 GIFT VOUCHER
Thinking of surprising a special someone or treating a loved friend?
Get them a Gift Voucher for Osteria Tufo!
Send us a message using the reservation form, state the amount you want to gift and we'll create a gift voucher for you
There should be an Osteria Tufo in every neighbourhood but you can't 'roll out' the personality and passion making this place special. We're almost adopted by caring
Naples-born owner Paola
I wish Osteria Tufo was a little closer to my house,
I'd be in there three times a week. There's something quite rare in the suburbs of late about a homespun,independent Italian.
a light, porous rock formed by consolidation of volcanic ash
Our food resonates with the energy of Mount Vesuvius